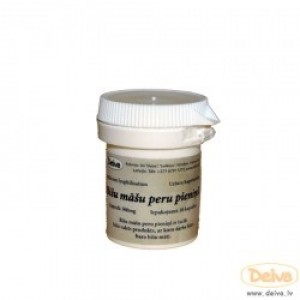 Royal jelly in capsules 300 mg
Nutritional supplement 10 capsules 3 capsules a day
An excellent bee product that the bees feed to the bee queen.
Product description
Natural, high quality, nutritious and biologically active product. It contains B group vitamins, minerals, organic acids, proteins, amino acids.
Effect: restores the physical and mental capacity of the body, improves the general state of the body and well-being after serious illnesses and slimming, prevents nervousness and anxiety, promotes appetite; improves lactation; helps to improve metabolism, strengthens immunity.
Usage : 3 capsules daily.Keep the capsule under the tongue until it dissolves or if you like you can open the capsule and poor it`s contents under the tounge. Use in the first half of the day. Is not recommended in the evening.
Daily dose (3 capsules): royal jelly (lyophilized) - 90 mg, lactose - 900 mg, capsule shell - gelatin.
The recommended dose for children is 1-2 capsules (30-60 mg) daily. Not more than 100 mg daily.
Use of the Product
Keep out of the reach of children.
Do not exceed the recommended daily dose.
NUTRITIONAL ENHANCER IS NOT A SUBSTITUTE FOR A FULL AND BALANCED DIET. Store in a dry place protected from direct sunlight at room temperature.
Manufacturer: SIA "Deiva", "Bites", Valodzes, Stopinu county, Latvia, Phone. 67911275, www.deiva.lv