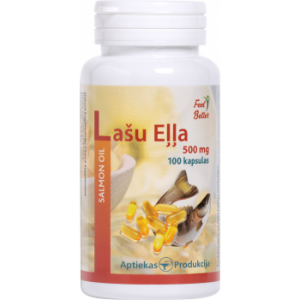 SALMON OIL 500 MG
120 capsules of fish (salmon) oil
The main value of fish oil is the unsaturated omega-3 fatty acids, which are not synthesized in the body and can only be ingested with food. Omega-3 fatty acids lower blood cholesterol and triglycerides and are thus useful in preventing cardiovascular disease. They lubricate the joints and reduce inflammation in rheumatoid arthritis patients. Valuable fatty acids can help with psoriasis by preventing dry skin.
Product description
Eicosapentaenoic acid (EPA) and docosahexaenoic acid (DHA) help to normalize heart function. Beneficial effects are achieved with a daily intake of 250 mg EPA and DHA. The product is meant for long-term use
Ingredients: salmon oil, gelatin, moisturizer - glycerin.
Ingredients for 1 capsule:
Salmon Oil..................................................... 500 mg.
Eicosapentaenoic Acid (EPA) ................. 90.0 mg.
Docosahexaenoic acid (DHA) ............... 60.0 mg.
Content: is in capsules one capsule holds 0.725g.
Packaging: contains 120 capsules. Blister pack.
Use of the Product
Take 2 capsules 2 times a day or as directed by your doctor. It is recommended that you do not exceed the recommended daily dose. Keep container tightly closed at room temperature out of reach of children. Do not use if the packaging is damaged.
Nutritional supplement no substitute for a wholesome and balanced diet!